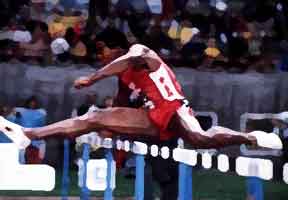 Rodney Milburn: The Quiet Champion
Chapter Three
The Second Hurdle: Rod and Willie at Southern U.
We're all given a talent, and mine happened to be the hurdles. . . . That's what I did better than everybody else." –Willie Davenport
In his first year at Southern University, Rodney became friends with the best high hurdler in the world. Willie Davenport, 1968 Olympic champion, had graduated from Southern shortly after his Olympic victory. When Rodney arrived, Willie still trained there and coached as a volunteer. From the beginning, Rodney and Willie developed a close relationship. The 26-year-old Willie mentored Rodney as the young freshman adapted to college life and the higher hurdles.

Willie's journey to stardom began at Howland High School in Warren, Ohio. His hurdling career took flight like Rodney's: filling in for a sick teammate. In 1961, Willie's junior year, his coach asked him to step in the 120-yard highs. Willie, who preferred baseball over track anyway, figured he had nothing to lose. He covered the distance in 15.8. Very fast for a first try.

He made it to the semi-finals of the State Championships that May, then won the state championship as a senior. His time of 14.2 was fast enough to earn an invitation to the U.S. Army track team in 1963. At first, Willie was just glad to get out of some of the usual work duties. But then "I saw a film of Hayes Jones," he said years later, "and decided I could beat him." Jones, bronze medalist in Rome in 1960, was the world's best hurdler and a favorite to win gold in Tokyo in 1964.

The army had selected a small group of athletes to prepare for the 1964 Olympic Trials. Willie began to take track more seriously. "I was young and could run like a damn gazelle," he said. "I was training with Bullet Bob Hayes. Bob Hayes was the fastest son of a bitch that I ever saw." Hayes, who went on to win the 100 meter gold in Tokyo, was coached by Dick Hill at Florida A&M before Hill moved on to Southern.

At the Trials in Los Angeles, Willie finished first in 13.6. Jones finished second in the exact same time, and Blaine Lindgren finished third in 13.8. Willie's victory was a shocker. Experts had been predicting a showdown between Hayes and Lindgren. Willie had made himself a favorite for the gold. But he strained a muscle in an early round of the Games and could only muster a seventh-place finish in his semi-final heat. Jones won the gold in 13.6. Determined to gain redemption, Willie enrolled at Southern in 1965 after being discharged from the army. Dick Hill had recruited Willie to Southern. Known for his meticulous approach and scientific knowledge of the sprints and hurdles, Hill began to correct Willie's technical flaws and mold him into an Olympic champion.

By 1968, the hurdling landscape had changed dramatically. Jones and Lindgren had ridden off into the sunset, replaced by Leon Coleman of Winston Salem State, Erv Hall of Villanova, and Richmond Flowers of Tennessee. Earl McCullough of the University of Southern California had tied the world record of 13.2 in 1967, but quit track before the Trials to play pro football. So one of Willie's chief rivals was out of the picture.

Early in the 1968 season, Flowers looked like the biggest threat to Willie's hopes. At the Pelican Relays on April 19, on Willie's home track in Baton Rouge, he lost to Flowers, 13.3 to 13.7. The following day, running into a strong headwind, Flowers defeated Willie again, 13.8 to 14.0, at the Dogwood Relays on Flowers' home track in Knoxville. Willie soon quit the Southern track team. Doing the team thing was hurting his Mexico City chances.

He had Hill's blessing. Having coached the mercurial Bob Hayes, Hill knew that great athletes need to be given a fair chance to display their greatness. Freed of the shackles of the team schedule, Willie could now gear his training and racing schedule toward the Trials, which would be held in September. Since 1964, he had clearly established himself as the best hurdler in the world. He had won two Amateur Athletic Union titles and had cut his personal best to 13.3. But after Flowers had humbled him two days in a row in April, Willie knew he could take nothing for granted.

In June, Flowers tore his hamstring in a training session. In September, he showed up at the Trials in Echo Summit, California ready to compete, but the muscle had yet to fully heal. Had the stakes been lower, he probably wouldn't have been running at all. With Flowers hobbled, Willie's stiffest competition would come from Coleman and Hall.

After winning his quarter-final and semi-final heats in 13.3 and 13.5, Willie took the top spot in the finals in 13.4. Coleman and Hall finished right behind, both in 13.5. Willie had gotten out slow, but caught Coleman and Hall by the fourth hurdle and held his slight lead the rest of the race. Flowers fought gamely but managed only fifth in 13.7, ending his Olympic dreams and his track career. Like McCullough, he joined the pro football ranks. Willie headed off to Mexico City for his second chance at Olympic glory.

At the Games, the 110 meter hurdle competition took place over two days. The first round was held on October 16. The semis and finals were held one day later. Willie won his first round heat in 13.6. The next day, he won his semi-final heat in 13.5. Coleman and Hall looked strong in their heats too. It was shaping up to be an American sweep.

Willie ran a flawless race, winning in an Olympic record of 13.3. Crossing the finish line, he raised his arms in jubilation. The smile on his face revealed his relief. He had gained redemption. He had won the gold. "From the first step," he said, "I knew I had won the race. It was the only race I ever ran that I knew I won from the start. From the time I lifted my first leg, everything fell into place."

Hall claimed the silver medal in 13.4. Eddy Ottoz of Italy broke up the American sweep by narrowly defeating Coleman for the bronze.

Willie Davenport, reigning Olympic champion, greatest sprint hurdler in the world, was the man Rodney Milburn met when he stepped foot on the campus of Southern University in the fall of 1969. Rod, the best prep hurdler in history, admired Willie, wanted to break his records, and longed to earn a gold medal.

Willie was the perfect mentor for Rodney. He embodied the personality traits that Rodney lacked. Willie was affable, outspoken, witty, and comfortable in social situations. Dr. George Whitfield, a retired professor who taught Willie in public speaking in 1966, pointed out that even before arriving at Southern, "Willie's military experience made him more outgoing, because he had been forced to deal with all kinds of people. Plus he had done track exhibitions all over Europe, so he was more mature than your average college student."

Willie also had a huge ego. "When you ran against him," Leon Coleman said, "he'd tell you you got second place before the gun went off." But he wasn't possessive of his territory. It would've been easy for him to shun Rodney as a potential threat to his status, but for all his brash egotism, Willie liked to help people. In the beginning, he was more mentor than peer for the introspective Rodney. Along with Paxton, he showed Rodney ways to adjust to the 42-inch hurdles and gave him plenty of positive reinforcement. Off the track, "Willie was kind of hip," Dr. Whitfield said. "A sharp dresser. So was Rod. They were alike in a lot of ways. They were both confident guys. They knew what they could do and they did it."

While Rodney's confidence was limited to the track, Willie's extended to all aspects of life. Unlike Rodney, who kept to himself and avoided conflict, Willie was acutely aware of social issues and never hesitated to make his opinions known. Like many black track athletes in the 1960s, Willie felt that there were major disparities between white and black athletes. They were treated worse by the press, meet directors, and the sport's governing bodies. In March 1966, Willie beat Richmond Flowers in a national indoor championship meet. Flowers' father, the attorney general of Alabama, was a despised figure among racist locals for advocating integration. Despite Willie's victory, Flowers ended up on the cover of Sports Illustrated. "Here I am," Willie recalled, "I win the national championship, and the whole story was about him and his father."

Among the black athletes, such slights, whether intentional or not, were considered commonplace. The athletes began to see their status as second-class citizens reflected in the plight of blacks throughout the country. That's why, in 1967, the Olympic Project for Human Rights was born, led by sociology professor Harry Edwards at San Jose City College in California. Edwards found three track athletes at San Jose who agreed with his contention that sports gave the black race in America one of its only platforms to create change. World-class sprinters Lee Evans, Tommie Smith, and John Carlos all experienced racism at school. In trying to find on-campus housing or get into required courses, they kept running into roadblocks.

Under the leadership of the fiery Edwards, the project began to threaten boycotts of major track meets, including the 1968 Olympic Games. A Games boycott never took place, but the infamous black-fist protest of Smith and Carlos did. On the victory stand after the 200 meter dash, Smith and Carlos bowed their heads and raised black-gloved fists toward the cloudy sky. It was a symbolic protest against social and economic inequities in the United States. It was interpreted as a threat of violence and an insolent display of disrespect for the American flag. The United States Olympic Committee, under orders from the International Olympic Committee to severely punish the two athletes, expelled them from the Olympic village and banned them for life from any further Olympic competition.

After his victory in the hurdles, Willie made no similar protest. And the thought of taking part in a boycott had never entered his mind. He was a sergeant in the Army. He had loyalties to his country that other athletes didn't have. Plus he was an individual. Willie wouldn't do anything just because someone felt he should. Though the media considered him one of the more militant blacks on the Olympic team, Willie opened his press conference after his medal ceremony by tersely announcing, "I didn't come here to talk about black power." He wasn't criticizing Carlos and Smith; he didn't like how the media was pitting the black athletes against each other. He also felt bitter about the black athletes' limited chances to cash in on their Olympic success. Years later, when asked what he got for winning the gold, he responded with a surly, "I got ran out of town. I got a ticket back home."

Clearly, he was not satisfied with his Olympic experience. But he did believe in the Olympic spirit. He preferred to show his activism at Southern, where he led many demonstrations protesting segregation. He also accepted a position as director of the Mayor's Council for Youth Opportunity in Baton Rouge. In that role, he and his staff set up child-care centers, made sure underprivileged kids received healthy meals, and provided job training for single mothers.

Willie's sincere concern for the poor children of Baton Rouge was a contrast to the other aspects of his character. Brian Oldfield, a shot-putter who traveled throughout Europe on the same circuit as Willie for many years, said in 2006 that Willie "was a smoker and a drinker. He was a womanizer. He could find a new girl in every port. I was like, whoa, I wanna be like him." Vince Matthews, 1972 400-meter gold medalist, detailed in his biography, My Race Be Won, that athletes spent much down time on planes and in hotel rooms gambling. Willie was one of the major players.

"The cool cat in most games," Matthews wrote, "was Willie Davenport. Everyone called him 'Cool Breeze' because nothing ever rattled him. He rarely said much during games, but when he walked out with most of the money at the end of a night, that said it all. The few times Willie would talk, he knew exactly where he was going, whether it was in a hurdles race or taking a hit at 18 in blackjack" (136).

Willie also passed time on the road by playing pranks on the younger athletes. Charles Foster, 1974 NCAA champion, recalls an incident from his first year on the European tour. He and Willie were walking outside the stadium in Munich, looking for a quick bite to eat. "We walk out," Foster said, "they got concession stands to buy bratwurst, and Willie offers to buy me lunch. I get a frankfurter on a little plastic plate, with a Kaiser roll beside it. The guy offers me a choice of mustard, ketchup, some other condiments. I didn't know anything about German mustard. Willie was in the military, he could speak a little German, so he picked it out for me. He got the hottest mustard they had, but I didn't know. Then he asked me, 'Do you know how to eat a frankfurter?' I said, 'Yeah, it's just like a hotdog.' He said, 'No, it ain't like a hotdog. You gotta put the mustard in real good, then bite the bread. That's how they do it over here.' Well I did like he said, and when I bit into that thing, I damn near burned my nose. I was on the ground trying to catch my breath. And Willie was on the ground laughing."

For someone as low-key as Rodney Milburn, following in the footsteps of a dynamic, charismatic character like Willie Davenport was no easy task. Anybody who knew anything about track knew who Willie Davenport was. Anybody who followed the hurdles knew that Willie was the best in the world. Who was Rodney Milburn? A freshman.

Said Leon Coleman: "I give Rod a whole lot of respect, man. Coming up, running the hurdles behind somebody like Willie was tough. I used to run behind Willie, so I knew what it was like. People didn't even know my name. They would call me Willie. And Rod, when he was first comin' up, they sometimes wouldn't notice 'im. If you're a novice runner, no matter how good you were in high school, you gotta show 'em what you can do."
But by 1970, Willie was no longer the only man to beat. He could still run with anyone, but two new Americans stood beside him as the nation's best hurdlers: Marcus Walker of Colorado and Thomas Hill of Arkansas State. Hill had graduated from Walter Cohen High School in New Orleans two years ahead of Rodney, but they had never raced each other as preps. Back then, Hill had focused on the high jump and long jump. He switched to the hurdles because his college coach offered him a scholarship. "It didn't make any difference to me," Hill said at the time. "I wanted a college education and if I had to hurdle to get it, I'd hurdle." Another contender was Guy Drut of France. Drut rarely ran against the Americans, but he was making a name for himself in Europe.

And then there was Rodney. Exceptionally talented, but raw and unproven. At this level, one-on-one duels with Spencer Thomas were a thing of the past. Up here, everybody could run like Spencer Thomas. In his first major indoor meet, the CYO National Invitational in Maryland, Rodney finished fifth in the 60-yard hurdles. He wouldn't have been invited to compete at all if Willie hadn't asked the meet promoters to let him in. Willie set an indoor world record in the race, but afterward he spoke of Rodney. When asked if he felt he was on pace for another Olympic victory, he said, "I'll probably still be hurdling in 1972, but I doubt if I'll be able to win another gold medal. You see, there's this young fellow I brought with me here from Louisiana. He finished fifth tonight, but by 1972, nobody is going to be able to beat him. He's going to be the best high hurdler in the world."

Willie's words would prove prophetic. More important, they revealed that his initial impressions of Rodney's talent were no different from Paxton's four years earlier. Once the outdoor season hit, Rodney began to show that Willie's wild prediction might come true. In his first competition, a dual meet against Southwest Louisiana in Lafayette, Louisiana, Rodney won easily in 13.6. His time placed him among the top ten in the world, announcing that this schoolboy standout planned to wreak havoc on the college ranks as well.

At the Martin Luther King Games in Philadelphia, Milburn lowered his best to 13.5. He came very close to beating Willie, who ran the same time but was given the nod. Rodney and Willie rarely ran against each other that first year. Willie competed in open meets and invitationals, while Rodney raced in meets on Southern's schedule. The King Games marked only the second time all season they faced each other. The first time, at the Pelican Relays in April, Willie defeated Rodney soundly. Rod's improvement the second time hinted that he was learning to look at Willie not as a mentor, but as a rival.

In early June Rodney won his first collegiate national title with a 13.7 at the NAIA championships. It was a good tune-up for the two national championship meets later in the month to close out the year. First came the United States Track and Field Federation championships in Wichita. There he finished second to Tom Hill, who tied the world record of 13.2. Rodney's 13.5 equaled his best. Even more encouraging was his consistency. He posted wind-aided times of 13.4 and 13.3 in the prelims and semi-finals. He was getting the hang of these higher hurdles, and he was performing well under pressure.

Rodney's last competition was the AAU championships the last weekend in June. Since the AAU was the official governing body of track and field, this meet was considered the peak of the domestic season. Usually, the top three finishers in each event would be chosen to represent the United States in international competition the rest of the summer. All the heavyweights showed up in Bakersfield, California. For the first time, Rodney would compete against Hill, Walker, and Willie -- all in the same race.

There were three semi-finals heats. In the first, Rodney ran a methodical 14.0, four tenths of a second behind Paul Gibson of UTEP. Walker edged Hill in the second heat. Willie outran Leon Coleman in the third. In the final, Rodney finished fourth in a relatively poor 13.7, behind all three of his main rivals. Hill won in 13.3, followed by Walker in second and Willie in third.

With the national title under his belt, Hill was now the top dog. In just his third year of hurdling, he had become the best in the country. Walker had dropped his personal best by three tenths of a second, and could now claim to be the equal of Hill and Davenport. Willie, who had been leading for most of the race before Hill and Walker overtook him at the fifth hurdle, had to concede that he was no longer king of the mountain.

For Rodney, the disappointment was profound. In his biggest meet of the year, he performed below his own personal standards. Instead of peaking, he ran the same time he had run in the Houston Meet of Champions as a high school kid. Perhaps being stuck way over in Lane 1 had something to do with his weak showing. Maybe he succumbed to the pressure of facing so many top-notch opponents. Or maybe he still needed to fine-tune his technique. Whatever the case, his season was over.

Willie, along with Walker and Hill, traveled throughout Europe all summer. Rodney went home to Opelousas.

With the recent arrival of integration, old J.S. Clark had been renamed and remade as East Junior High. On his first day back, Rodney walked to the grass field and hopped aboard Paxton's riding mower. He cut the tall grass, then changed into his running clothes.
© 2010 Steve McGill
Works Cited
Matthews, Vincent and Neil Amdur. My Race Be Won. New York: Charterhouse, 1974. Print.